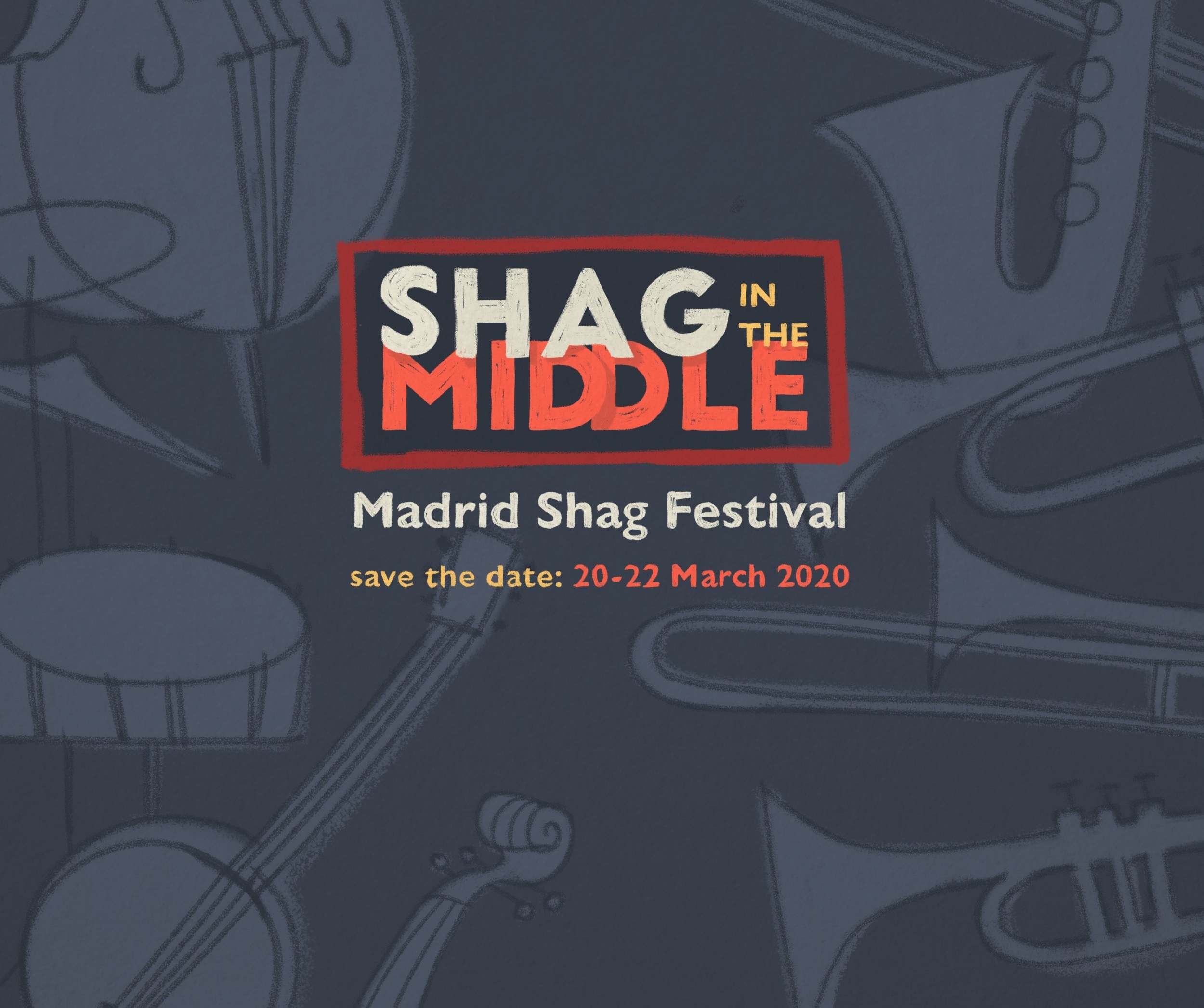 Shaggers and dancers from around the world: we are extremely pleased to present the first Shag Festival in Madrid:
'Shag in the Middle'
We'd like to share our small but growing shag scene with all of you and to have fun alongside the wonderful international teachers, Arnas & Egle and Sandy & Martí. We'll be waiting for you to enjoy dancing to the sound of the Madrid Hot Jazz Band at the fun parties, which will include tasters, games, competitions and some other surprises!
Why Collegiate Shag?
Collegiate Shag is a swing dance, danced as a couple to fast-paced music. It was born in the 20's, in the South of the United States and owes its name "Collegiate" to the fact that it was mainly danced by students.
After its decades of glory, Collegiate Shag suffered some decline. However, in the last 15 years its scene has been steadily growing and expanding, also around Europe. Even though it's still not a mainstream swing dance, its energetic and fun character make it easily recognisable and many festivals have opened their doors to this unique dance.
If you still haven't tried Collegiate Shag, this is your chance!
Why Shag in the Middle?
Shag in the Middle is born with the idea of getting the different and growing Collegiate Shag scenes together for a weekend full of music and good vibes. It's our first project at this level, and far from being ambitious, what we wish, above all, is for this festival to be a friendly, warm and fun event, where everybody, from those who are new to shag to the most experienced dancers, will enjoy themselves and share their dance.
We are really looking forward to filling the Madrid dance floors with positive energy and wonderful people. That is why we'd love to close the festival by sharing a pleasant Sunday meal with you all.
Registration opens on October 8th at 9:30 p.m!
Sandy Lewis & Martí Gasol
Sandy and Martí united as partners in their passion for collegiate shag in 2015 and they continue to rock the world today. These two crazy kids love to show off their skills in playful choreos and the fun shines through in their classes as well. With Martí's elegant precision and Sandy's electric spontaneity you can't go wrong. The Shagamuffins are excited to innaugurate the first edition of this amazing festival and they can't wait to see you there!
Eglė Nemickaitė & Arnas Razgünas
One of the most prominent couples of Lithuanian Swing Dance scene, partnered up from the very first dance Arnas & Eglė are dancing, performing, teaching and inspiring the community in Vilnius everyday. Passion and joy for Lindy Hop & Collegiate Shag gained their name as international instructors in regular small workshops around Europe, specially in Poland, where along with Swingout.pl community they inspired Collegiate Shag scene in Warsaw and all over the country. Rich experience in teaching every day classes grants quality and fun with clear explanation of their material by expressing swing music and yourself in it. Arnas & Eglė are co-founders of What a Jazz Dance Studio in Vilnius and co-organisers of the one and only Balboa & Shag festival in Lithuania – Swing Paradise.
María Mateos & Javi Teigell
María and Javi will teach level 0 lessons (Beginner Track). They started dancing Collegiate Shag in 2016, and since then they have not stopped looking for that "slow-slow-quick-quick" rhythm at national and international festivals. They have been among the pioneers to bring the shag dances to Madrid, first as social dancers and later as instructors. They currently teach at Animal Jazz, and they are one of the great promoters of the shag scene. Their enthusiasm for Collegiate Shag has not only spread troughout the capital, but has also inspired dancers from different cities. Undoubtedly, the energy and good vibes of this couple flood their classes and the dance floors they step on.
Madrid Hot Jazz Band
The Madrid Hot Jazz Band is a Madrid-based band of international musicians who feature the repertoire and spirit of the first decades of jazz, when this music from the streets of New Orleans, prevailed in the United States dancing floors and travelled across the Atlantic through the radio and first records.
That original jazz is still very much alive in the Madrid Hot Jazz Band music, a band capable of reinterpreting, while scrupulously respecting tradition, over a hundred evocative compositions from the traditional jazz songbook, taking the audience to a different place and time.
The band, which was born in 2015, uses original-style instrumentation, recovering instruments such as the washboard, bass, banjo, saxophone, clarinet or the bugle. Today, it's one of the most representative bands in the traditional Madrid jazz scene and it is normal to find its musicians at lindy hop, balboa, shag or blues events.
Sara Pista
Sara Pista is a photographer and retoucher based in Madrid, Spain. She fell in love with photography the minute she touched a film camera back at university. Everything has changed since then! After her degree in Communication Sciences and a quick visit to EFTI School of Photography, she ended up doing a Masters Degree in Fashion photography in London, where she also lived for four years. The need for a bit of sun pushed her back to Madrid in 2014, where she currently lives with her slightly bipolar cat.
Sara likes to think that she photographs the ordinary to try to make it extraordinary. You will usually find her out and about shooting all sorts of fun events, including many national and interntational swing festivals (Rock that Swing, Move Your Bottom, Swing Mood Fest, Zaraswing, etc). So… she could not miss the first edition of Shag in the Middle!
Don't know what your level is? Read the descriptions carefully and, if you're still in doubt, you can always ask us. But, above all, be honest! Having a similar level in each group is the best way to make the most of the lessons.
LEVEL 0 (BEGINNER PASS):
I WANT TO TRY OUT SHAG
You've seen how cool shag is and want to try it out or maybe you've done a taster or workshop and know the basics, but you'd like to start from the beginning.
You've received regular classes during one or two terms, or you've taken several workshops. You know the basic footwork and some moves. You'd like to keep on learning moves and improving your technique to start letting yourself loose on the dance floor.
You dance shag for over a year now. You have attended several terms of regular courses or workshops and know a great variety of moves and variations. You may have also attended other shag festivals. You dance shag socially whenever you have the chance and the tempo allows it.
You have been dancing shag for at least two or three years and have had several teachers. You know complex figures and variations to the basic steps. You frequently assist festivals (Barcelona, Warsaw, Lithuania…) and you sometimes compete. Shag is definitely your thing and when the music is over 180 bpm you want to dance nothing else.
NOTICE: Arnas & Egle will teach in English. Sandy & Martí will do it in a crazy and funny mix between Spanish, Catalan and English (Cataspanglish). María & Javi speak more than 20 lenguages, but they will teach in Spanish. Sara Pista will shoot in English. Madrid Hot Jazz Band… who knows what they will do? ;-)
Schedule
The final timetables are still to come, but for you to start organising yourselves here's some initial information:
Classes will be held all day Saturday and on Sunday morning, except for level 0 classes which will be held on Friday afternoon and Saturday; and 'Half Pass' classes (just Saturday at mid-day).

Parties will be on Friday and Saturday night. There won't be a party on Sunday night, but there will be a group lunch (optional).
FULL PASS
Early bird and groups 110 €
Late bird 130 €
4 hours of lessons with Sandy & Martí, Arnas & Egle

Tasters

2 parties with live music
2 hours of lessons with Sandy & Martí, Arnas & Egle

Tasters

2 parties with live music
4 hours of lessons with María & Javi (level 0)

Tasters

2 parties with live music
Tasters

2 parties with live music
Initially, single party tickets won't be on sale. However, some tickets may become available at a later date depending on the space available.
Discounts
EARLY BIRD:
The fastest shaggers will have a discount, don't miss it!
ANIMAL JAZZ STUDENTS:
Animal Jazz students will have a 5% discount on the full pass. To get the discount you will have to be attending at least one regular course when you register.
GROUP DISCOUNT:
At Shag in the Middle we'd love for Madrid to become a meeting point for the different and flourishing shag scenes that are growing throughout Spain and abroad! As we know the effort involved in heading off to a festival, we've created a special Group Rate (full pass 110 €) for those of you coming from outside Madrid.
Conditions:
A group must be made up of at least 4 couples (4 leaders and 4 followers) from people living outside Madrid.

Each couple must be registered in the same level, but a group may be made up of couples of different levels.

Once the group is formed, one person will send an email to shaginthemiddle@gmail.com indicating the full name, role, level and place of origin of each participant, as well as the name of the group.

Each participant will have to register individually by filling out the registration form and indicating in the corresponding box the name of the group they belong to. Payment will also be made individually following the instructions which you will receive in the confirmation email.

The group discount and the early bird fee cannot be combined, but a person who has obtained an early bird fee can be part of a group in order to reach the minimum number of couples required.
General conditions
Even though it's not compulsory, it's advisable to register as a couple to guarantee your spot. If you register alone you will be put on the waiting list until a person from the other role registers at the same level.

Once you have payed, you won't be able to cancel your registration or get a refund under any circumstance. However, if you are unable to attend, you may transfer your pass to someone else given that they have the same role and level as you. This will be managed entirely by the interested parties even if it would be convenient to notify the organisation via email to make registration easier. If there is a waiting list, we can help you find a replacement.

Once you have registered you may notify changes in your personal data via email if necessary. It is also possible to ask for a level change which will be allowed only if there are spots available in the new level and if it doesn't create an outmatch in couples. If you have registered as a couple, the change of level will affect both members. Changes will be allowed up to 7 days before the start of the event.

The organisation will not be held responsible for any costs incurred by the participants in case of partial or complete cancellations (travel costs, accommodation etc.). The organisation is also not responsible for any physical or material damage participants may suffer during the festival (even if we will do everything in our power to help).

If an artist (or artists) cancels, the organisation will do their best to find a suitable replacement. If the entire event were to be cancelled, the registration fee will be fully refunded.

The different activities during the festival will be photographed and filmed. Participants are to be aware of this as these photos and videos, which are owned by the organisation, may be posted on social media.

Registration and assistance to the festival implies the acceptance of the aforementioned conditions.
Venues
Friday and Saturady parties will take place at Cha 3 Ballroom. With its wooden floor, it has become an emblematic place of the Madrid swing night.
Lessons will take place at Espacio Encuentro and La Quinta del Arte, both of them located at Tirso de Molina square, in the city center, and very well connected.
Cha 3 Ballroom
Calle de San Pol de Mar, 1, 28008 Madrid.
Espacio Encuentro
Calle del Dr Cortezo, 17, 28012 Madrid. 2nd floor.
La Quinta del Arte
Calle del Dr Cortezo, 17, 28012 Madrid. 5th floor.
Madrid
Why Madrid?
Apart from Madrid being the capital city, it's also got a lot of charm. The streets in city centre are full of life, tapas bars, historical monuments and picturesque corners. Separated only by a few minutes away on foot you can enjoy going to the Plaza Mayor, Puerta del Sol, the Palacio Real, the Templo de Debod with its fantastic views of the Casa de Campo and the many museums full of art and history. The Parque del Retiro invites you to go for a walk among its trees, spend some time at the lake, enjoy the many exhibitions and different types of artistic performances, as well as to take a moment to rest by taking a nap on the grass, in the shade. Not far from the centre, you can also go for a walk in Madrid Río and find moments of peace and quiet in the middle of the bustle of the city.
On top of everything else, its strategic location makes Madrid very easy to access by car, train or plane.
So... what are you waiting for! :D